Motorola RMU2080 8-Channel 2 watts Two-Way Radio UHF Business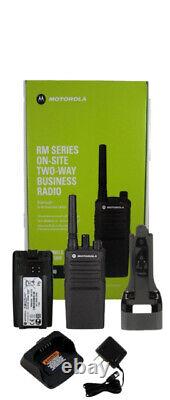 The Motorola RMV2080 is 2-watt, 8-channel VHF two way radio. The RMV2080 walkie talkie is perfect for outdoor communication on smaller construction sites and industrial or rugged environments. The Motorola RMV2080 helps you improve communication, work efficiency, and workplace safety through quick response time and reliable communication.
This two way radio walkie talkie is part of the Motorola RM Series and is the direct replacement for the RDV2080D. One VHF Professional Two Way Radio Model RMV2080. 2100 mAh 3.7V Lithium Ion Rechargeable Battery Up to 15 Hours of Battery Life! Standard Drop-In Charging Tray w/ Wall Adapter. Swivel Belt Holster With 3.5 Spring Clip.
Range Varies based on Terrain and Conditions.