Motorola APX2000 UHF R1 380-470 MHz, New APX / Alt. To APX4000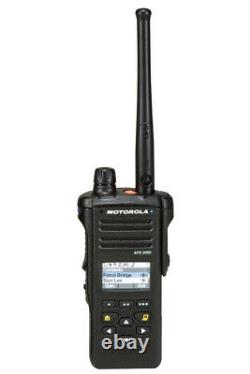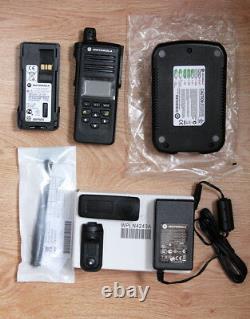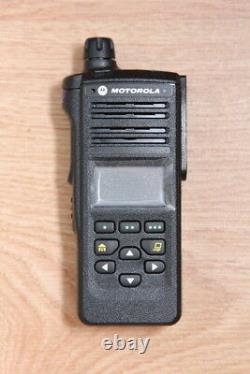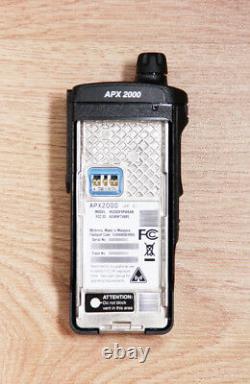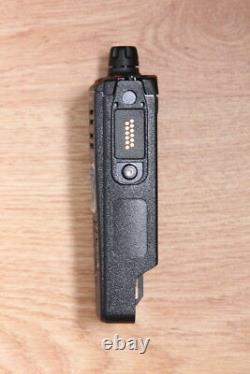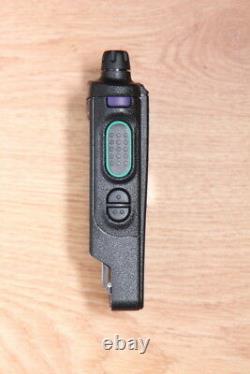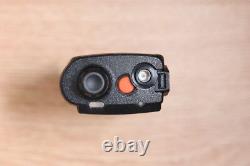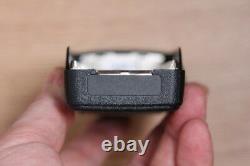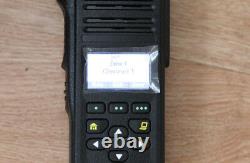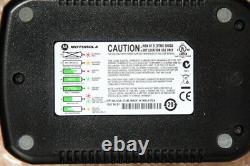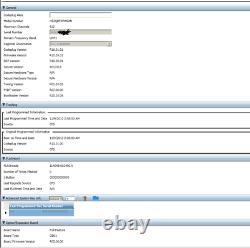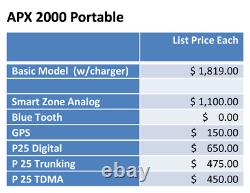 Motorola APX2000 Model II UHF Range 1 380-470 MHz, NEW w/ factory legit tags! NEW RADIO WITH NEW ACCESSORIES. All photos you seeing was taken of actual item you will receive. What You See Is Is What You Get! New Motorola APX2000 UHF Range 1, 380-470 MHz.
New Motorola Belt Clip, PMLN4651A. New Motorola Accessory Connector Dust Cover. New Motorola battery, PMNN8128A (IMPRES Li-Ion 2350 mAh). Battery is relatively fresh, datecode 1822 May 2018!
New Motorola Antenna, PMAE4065A (380-520 MHz & GPS band). New Motorola Impres Charger WPLN4243A with Motorola PSU (Euro plug, 220-230VAC only). Important info about this item. Frequency range is 380-470 MHz.
FLASHcode features: Q806: ASTRO IMBE Digital Operation H869: Hardware Multikey Encryption QA01767: ASTRO 25 Trunking Radio Authentication QA00571: Primary Band: UHF Range 1 QA01749: Legacy SW System Key Enable H38: SmartZone Systems Operation QA02756: APX 3600/9600 Single System Q173: SmartZone Omnilink MultiZone Operation QA00580: Enable TDMA Operation Q361: ASTRO 25 9600 Baud Trunking. FLASHcode can be upgraded to any you want for free. Specify FLASHcode you need with your order. Firmware and DSP versions are R10.05.01 and last time touched with R16.01.01 CPS. Tags matches to the radio! This is NOT Chinese, or Panter88 or parts built radio! This is genuine Motorola radio in factory packaging straight from EMEA dealer. This radios contains Bluetooth module and has appropriate blue dot mark on front sticker. Guaranteed not to be DoA. APX2000 is similar to APX4000 and APX1000. Just marked for different regions: APX1000 - Asia, APX2000 - EMEA, APX4000 - North America. APX-2000 is younger brother of Motorola APX Family radios like APX6000, APX6000XE, APX7000, APX7000L, APX7000XE, APX8000, APX7000XE. But more compact and more lightweight. Ideal choice to have Phase I and Phase II on your belt every day. DO NOT PAY UNTIL YOU GET INVOICE FROM US!
However, we will declare this item to minimize possible problems return/reasonable value/etc. USA / EU or any other International buyers are welcome! If you do have question, please feel free to ask. Motorola makes best radios around the world!
They are better than Kenwood, Icom, Vertex, EFJohnson, Tait and Hytera. The APX 2000 delivers all the benefits of P25 technology in the smallest P25 Phase 2 portable in the industry. Easy to use, tough as nails, a hard value to beat, it connects public works, utilities and local public safety users to first responders for fast, interoperable communications. Durable enough to withstand dust, heat, shock and submersion, the APX 2000 is IP67 and MIL-STD certified. Its packed with key features to help keep you safe, like mission-critical wireless, 2-microphone noise suppression, GPS outdoor location and encryption.
APX PERFORMANCE, INSIDE AND OUT. The APX 2000 leverages the industry-leading hallmarks of the APX family of P25 TDMA portables. Starting with an innovative 2-microphone design that produces outstanding voice quality and suppresses background noise so users can speak and hear clearly above diesel engines, sirens and heavy equipment. Simplified controls and an enlarged multifunction knob are easy to turn on or off, set volume and switch talk groups, even while wearing gloves.
And high-spec RF performance ensures excellent coverage in challenging environments. FIRST TO WORK, LAST TO LEAVE. Reporting from a fire line or a power line, the compact APX 2000 stands up to challenging conditions.
Its IP67 and MIL-STD certified to withstand dust, heat, drops and water immersion, with a tempered glass display that resists scratches, abrasions and chemical solvents. Loaded with advanced P25 features including Mission Critical Wireless Bluetooth® that increase communication flexibility, GPS for quickly locating personnel and assets, and additional language support for international users the APX 2000 improves safety, from the moment its powered on until the last person heads home. The APX 2000 is P25 Phase 2 capable for twice the voice capacity, so you can add more users without adding more frequencies or infrastructure. Backwards and forwards compatible with all Motorola mission critical radio systems, the APX 2000 portable keeps communications running without running up costs. Compact design Smallest P25 Phase 2 TDMA-capable radio available.
Full-size keypad Simple to use and navigate. Color display High-contrast color display is easy to read in all kinds of light. Multifunction knob The multifunction knob is designed for ease of use by combining volume, channel, and ON/OFF settings in one. Optional Dedicated Volume & Channel Knob Dedicated volume and channel knobs come standard to provide users with mission ready ergonomics.
Dual microphones Dual microphone noise suppression technology locates the talker and cancels out any background noise. P25 Phase 2-TDMA Twice the voice capacity, allowing additional users on the system without the need for additional frequencies or infrastructure. AMBE Vocoder Equipped with the latest AMBE 2 digital voice vocoder. Two radio models Two radio models allow the user to select the device that best suits the user's environment. Mission-critical wireless Option available to connect quickly, securely and easily to certified Bluetooth devices.
Integrated GPS Enables accountability and location tracking of an individual, which can be sent to a map-based location application. Optional feature and requires ASTRO 25 Integrated Voice and Data. Encryption Optional FIPS 140-2 Level 3 AES certified hardware encryption provides tamper-proof security to ensure secure communications. Intelligent lighting Uses color to notify you of the radio mode, potential emergencies, or specific events. Color alerts provide information at a glance.
Radio Profiles Adjust audio levels, lighting and tones through user-selected or automated options. Whether on surveillance or working in bright sunlight, you can customize settings as needed. Text messaging Offers a freeform or canned messaging solution so you can efficiently and discreetly send and receive messages.
Voice announcement Audible, pre-recorded voice file provides a description of the selected channel or zone. Over-the-air programming Motorola's POP25 solution allows portable and mobile radios to be programmed over the air via the ASTRO 25 systems while remaining in the field.
The item "Motorola APX2000 UHF R1 380-470 MHz, New APX / Alt. To APX4000" is in sale since Wednesday, February 13, 2019. This item is in the category "Business & Industrial\Facility Maintenance & Safety\Surveillance & Alarm Equipment\Two-Way Radios".
The seller is "land_mobile_radio_dealer" and is located in Moscow, default. This item can be shipped worldwide.
Model: APX2000
Country/Region of Manufacture: Malaysia
MPN: H52QDF9PW6AN
Frequency Band(s): UHF
Brand: Motorola
Country//Region of Manufacture: Malaysia
Bundle Listing: No