Motorola DTR2450 2400 MHZ Two way Radio Frequentie hopping super privacy com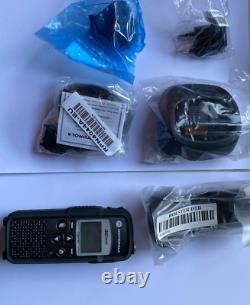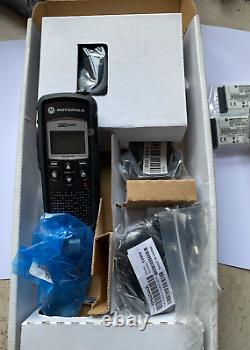 Motorola DTR2450 Digital Licence Free 2400 Mhz 2 Way Radio Super Safe Private communications. Boxed new with new batteries. Very Long range and very good and Clear Audio.
2 pin euro American and UK Adapter inside box. What makes the Motorola DTR2450 perfect for your on-site operation? It enables enhanced coverage and optimum battery life. And digital audio quality - which stays loud and clear everywhere you have coverage.
Moreover, each unit has its own unique 11-digit identification, bringing you new calling options. Allows you to call and talk privately with a specific user's radio. A private-call recipient can receive an alert, and the recipient's radio displays the caller's ID. Public group call - all other DTR Series radios on the same group ID and channel hear communications, similar to analogue radios. Private group call - allows you to set up selected user groups and communicate privately and securely within the group.
Private one-to-one and private one-to-many calls. Customer Programming Software (CPS) for easy programming. On-site communications with coverage much better than, PMR446 products. 2.4 GHz ISM license-free band.
Frequency hopping spread spectrum (FHSS) for security and interference avoidance. Private-call reception, return, origination, and audio/VibraCall® vibration alert. Public-group calling up to 20 public groups. Short Message Service (SMS) text messaging reception and origination. Preset messages for quick and easy response15 available with 10 preprogrammed.
Free-form messages (via optional Mini Keyboard). SMS time/date stamping Battery gauge Lithium ion batteryup to 18 hours of operation per full charge. Private- and group-call name aliasing (via optional Mini Keyboard or CPS). Rugged, compact polycarbonate housing with rubber over-mold for comfort - 132 mm H x 58 mm W x 36 mm D Meets military 810 C, D, E, and F specifi cations for shock, vibration, water, dust and temperature extremes. 2-pin audio accessory jack with captive connector cover. Connector programming interface with captive connector cover. Alert reminder tone Caller ID Recent call list - last 20 transmissions. Call forwarding 150-unit contact list (shared group/private). Remote-disable and remote-monitor receipt Over-the-air time/date update receipt. The DTR2450 incorporates enhanced features and functionality, providing the ability to monitor, manage and programme a groups DTR2430 radios. High-capacity battery for up to 19 hours of operation per charge (up to 14.5 hours for DTR2430). One-hour charger (three-hour charger for DTR2430).
Up to 50 public groups (up to 20 for DTR2430). Up to 20 private groups (10 for DTR2430). Capability for up to 25 preprogrammed messages (15 available and 10 preprogrammed on DTR2430; 25 available and 10 preprogrammed on DTR2450). Remote Disable / Enable of another radio. Over-the-air time and date update origination.
All 2 pin motorola accessories can be used on this radios. They are super private for. Safe communications on 2400 mhz with digital frequency h. The item "Motorola DTR2450 2400 MHZ Two way Radio Frequentie hopping super privacy com" is in sale since Thursday, November 12, 2020.
This item is in the category "Telefonie en communicatie\Radiocommunicatie\Amateurradio's\Zenders, ontvangers". The seller is "zendshopnl" and is located in Huizen. This item can be shipped worldwide.