Motorola On-Site RDU4100 10-Channel UHF Water-Resistant Two-Way Radio #16786R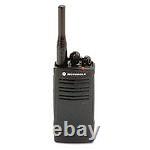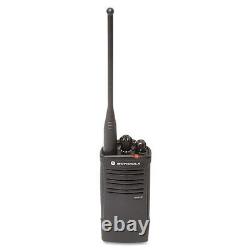 The RDU4100 is a member of the new RDX Series introduced by Motorola. This On-Site Two-Way business radio is a 4 Watt, 10 Channel unit that is affordable and easy to use. With the RDX Series, it's easier to keep projects on track through better coordination of foremen, subcontractors and individual tradespeople; just what you need to address the daily challenges of worker safety and liability, pressure to finish projects faster, avoiding costly mistakes and thin profit margins. The RDX Series radios provide the communication tool to help meet deadlines, avoid errors and keep costs within budget. The RDU4100 offers exceptional audio quality as it is 30% louder than previous XTN and AX models. These units allow you to maintain constant contact with and among workers to mobilize them and get tasks completed faster. The durable metal die cast chassis helps the radio hold up under demanding conditions. Discover what the RDX Series can bring to your construction business. Dynamic Talkaround Scan - Allows the radio to automatically switch between repeater and talkaround modes in order to optimize communications.
Up to 4W Power (2W low power setting). Pre-Programmed to 10 Channel / Code Combinations.
38 Analog and 83 Digital Interference Eliminator Codes.