MOTOROLA XTS5000 UHF 380-470mhz P25 TWO WAY DIGITAL RADIO H18QDF9PW6AN ADP P25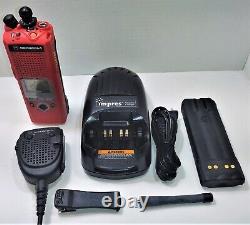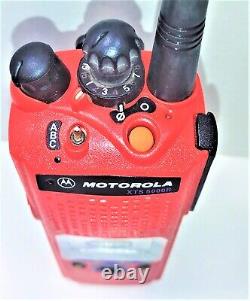 MOTOROLA XTS5000 UHF 380-470 MHz UHF R2 Digital P25 SmartZone Radio H18QDF9PW6AN. The XTS 5000 Project 25 Digital Radio is a tough and interoperable radio Motorola makes. It assures seamless, high quality communication in a robust design that stands up to the most demanding environments. Motorola's IP-enabled portable two-way performer offers a full array of sophisticated features and progressive technology. Designed specifically for law enforcement, firefighters, emergency medical, military and federal agencies, the XTS 5000 digital portable radio is the preferred tool of life-saving professionals.
Looks great, works great, see pictures. Firmware: R20.50.10 ADP encryption enabled. Rated RF Output Power: 1 to 5 W (Low/High). Channel Spacing: 12.5 / 25 kHz. Maximum Frequency Separation: Full Bandsplit. Trunking standards supported: clear or digital encrypted APCO P16 and APCO P25. SmartZone, SmartZone Omnilink, SmartNet, Conventional System Configurations and ASTRO 25 Trunked Operation. Narrow and wide bandwidth digital receiver (12.5 kHz / 25 kHz).
Embedded digital signaling (ASTRO & ASTRO 25). (1) Motorola XTS5000 II radio (H18QDF9PW6AN). (1) New after market battery.
(1) IMPRES Charger with power cord.